Family Advantage Chiropractic Timnath Reviews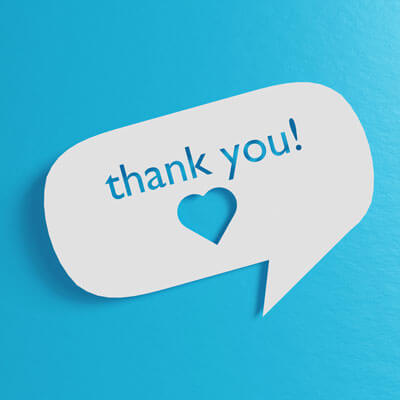 What Our Timnath Patients Say
At Family Advantage Chiropractic Timnath we love when patients share with us their feedback and comments after chiropractic care. Please read our patient testimonials below to see what other people have achieved through their tailored treatment plans with us.
Share your stories too! Click here to send us your feedback so that we can help to spread the word about the benefits of natural Family Advantage Chiropractic Timnath care.
For more information, or to schedule an appointment contact us today.
---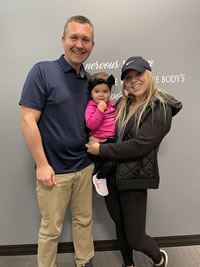 Dr. Park is Absolutely Amazing!
Dr. Park is absolutely amazing! I wouldn't have made it through my pregnancy without his care. He was always inviting and made me feel very welcome. My kids always loved going to visit as well. He truly cares about the care he's giving you and the place is always very clean and neat. I highly recommend him for any of your chiropractor needs.
- Taylor H.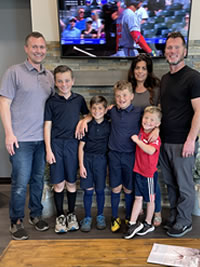 Highly Recommend
We highly recommend Dr. Parks. When we started as patients at his office my 10-year-old was suffering from severe migraines 2-3 a week. He was missing school and sports practices. Dr. Parks created a treatment plan that we followed and I am happy to say my son has gone over 6 weeks without a migraine. The rest of our family gets regular adjustments as well and we have seen a great improvement in our immune systems this winter.
- Powell Family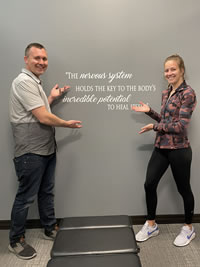 I Feel So Much Better
Experiencing Dr. Park's adjustments firsthand on some muscle tension led to a job shadow with him for a potential career as a chiropractor! I have felt the amazing health benefits and feel so much better. He's a great guy and so is the front desk lady, Jess! Definitely recommend Dr. Park for any health concerns to anyone in the area!
- Mady S.
Attentive and Genuinely Interested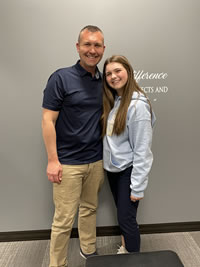 Our family had never received chiropractic care before, so it is fair to say that we each came to his practice with reservation and skepticism. We were, however, at a crossroads with our 13-year-old daughter. The previous year, on a school ski trip, she fractured T10 – T12. Orthopedic care did not recommend outpatient therapy or any at-home therapy, just said she would be fine to return to normal life after 6 weeks of zero activity. Her pain and discomfort continued to worsen. We live in the same neighborhood as Dr. Park and his family and had met briefly, even before his practice officially opened. He was attentive and genuinely interested in the back story of her injury and asked several probing questions about her discomfort and compensatory movements as a result. When her pain reached an all-time high and was limiting her participation in school P.E. and her competitive dance, we knew we needed to take action. We made an appointment with Dr. Park for an evaluation – complete with scans – and he went through the results of those scans before he ever initiated the first adjustment. This definitely built a foundation of trust for us, especially having reservations. Dr. Park thoroughly explained the purpose of adjustments, and the plan of care, and continues to do so now that we moved into the 2nd phase of the plan of care. He has always answered our questions patiently and thoroughly, even the repetitive questions. His bedside manner is great for all ages and we appreciate the rapport we have developed with him. I would not hesitate to recommend Dr. Park to anyone familiar or unfamiliar with chiropractic care.
- Tate M.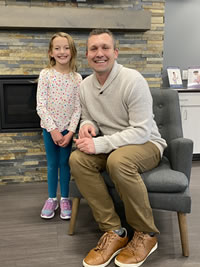 Experience Rated 10 Out of 5
I asked my daughter to rate her experience from 1 to 5… she said TEN! We came to Family Advantage to help align my daughter's nervous system to help with Emotional Regulation. Midway through our treatment, we started to notice results. She was recovering from outbursts faster and was able to use her calm-down strategies without support. She notices how her body has "calmed down" inside. This plan gets a 10 out of 5 from us!
- Londyn W.
Pleased With my Experience and Care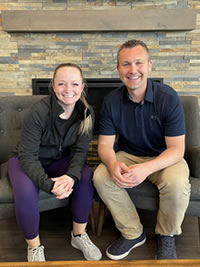 I have been seeing Dr. Park for a couple of months now and I can not be more pleased with my experience and care. He has always strived to be very personable which helps make it a comfortable experience. I honestly feared going to a chiropractor for years. I did gymnastics for 12 years and had two stress fracture injuries to my lower back. My years of gymnastics are catching up with me and I now work as an EMT on an ambulance in which is a field prone to back injuries. I came to Dr. Park with my fears and concerns of knowing I need to change/do something about my back pain progressively getting worse. He is very knowledgeable and went out of his way to explain the whole process of a personalized care plan to help with my stress and pain which reassured me and made me feel more comfortable with the approach of chiropractics. I am pleased to say I am very happy with my experience and have noticed a HUGE positive improvement in my pain level and even my mental health and stress levels. I am not only able to have a more consistent healthy lifestyle with feeling good enough to work out daily but, I also have noticed my anxiety and panic attacks have reduced significantly as well. If you are looking into needing a chiropractor, look no further and schedule with Dr. Park!!
- Kelsey P.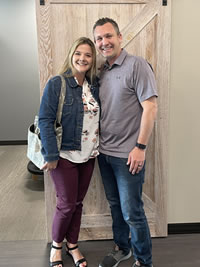 Thank You!
Dr. Park has been treating me for migraine support since early this year. I have not had any migraine symptoms since beginning chiropractic services. I appreciate his thorough assessment of symptoms and willingness to listen thoughtfully at every appointment. He has also cared for one of my children after a concussion. Thanks, Dr. Park!
- Dana G.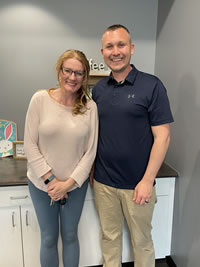 Best Chiropractic Experience
Family Advantage Chiropractic is hands down the best chiropractic experience I've ever had. The office is clean, open, and welcoming to everyone especially those with children. Dr. Park's exceptional knowledge of the body and his ability to identify key factors that led to my pain amazed me. He has been extremely helpful with the post-operative care I needed to rehabilitate after an ankle surgery. I highly recommend Family Advantage Chiropractic and am so grateful for the care I receive on a regular basis there.
-Jamie B.
I Trust Implicitly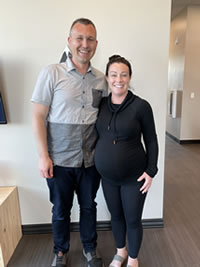 For the past year, I have been dealing with back pain since having my daughter. I have also experienced low energy, dietary intolerances and recurring illnesses since her birth. I began to work with a functional nutritionist at the same time that I went to see Dr. Park for the first time. He listened to my journey, what I've experienced and my goals for the next 6 months – year for my health and provided me a clear timeline and expectations for what I could expect from my adjustments and how chiropractic work would benefit my new nutrition and exercise program. Dr. Park has always taken the time to listen to my concerns if I was feeling something was out of sync in my body, and explain to me why that was happening and work to address it immediately. I am now pregnant with our
second and have continued to go to Dr. Park for adjustments throughout the pregnancy. He is someone I trust implicitly and will continue with long-term to benefit my health journey.
- Kaitlyn B.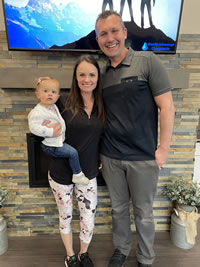 Amazing!
Dr. Park is amazing!!! I have scoliosis and I have had back pain for years because of this. With routine adjustments, I have honestly never felt better. My back pain is pretty much gone! I will continue to see him so I can continue taking care of myself. Thank you Dr. Park!
- Chrissy C.
Dr. Park changed our lives!
I highly recommend him. After an ER visit, and desperately trying anything and everything that there is to try to treat colic, Dr. Park was identified and recommended to me by an out-of-state friend of mine, who also happens to be a chiropractor.
My then four-month-old had been struggling with severe colic and related symptoms since birth. His flexibility was limited in relation to the symptoms, although I had not realized it at the time. As a first-time mom, I felt so hopeless. I thank God for Dr. Park! My baby started to show remarkable signs of improvement the same day after the first visit.
Dr. Park's professionalism and service, as reflected in his bedside manners, including explaining the status and treatment thoroughly (and normalizing the mom's experience!), are among the best I have ever encountered. The stomach issues ceased, as well as the hours-long episodes of my baby crying from pain. I did not mind at all making the two-hour round-trip to see Dr. Park. My "baby" is now a happy, curious, thriving, healthy 2.5-year-old. Since then, I have recommended Dr. Park to several friends, and all of them have reported a positive outcome.
Also, #GrandmaApproved
- Wendy M.
Auto Accident Care and Pregnancy Care
I started seeing Dr. Park about 6 years ago. An injury from a car accident about 10 years previous, paired with a new job that kept me on my feet for eight hours, left me with excruciating lower back and hip pain. I had been to other chiropractors in the past without much luck and doctors could only prescribe pain medication- never really addressing the issues head-on. After an initial consultation, and with nothing left to lose, I gave Dr. Park a try… and I am SO GLAD I did! Almost immediately I could tell the difference between Dr. Park and the other chiropractors I had seen before. His knowledge and professionalism far exceeded my expectations and his kind and caring personality made every visit a pleasure. Furthermore, much to my surprise, it wasn't long before my lower back and hip were completely free from pain! I continued to see Dr. Park for maintenance visits and was once again impressed by my results when I came to him with an injured shoulder I got from training for a swimming competition.
Initially my shoulder was under the care of my primary care physician but I quickly became frustrated with the increasing doses of pain medication I was being prescribed without much pain relief. Luckily for me I knew exactly who to turn to! Dr. Park began treating my shoulder and introduced me to the concept of "taping". Dr. Park was able to provide the relief prescription medication couldn't, and it wasn't long before the pain from this injury was also a thing of the past!
My most current success stories can be attributed to the care Dr. Park has given me during and after my recent pregnancy! While pregnant, I experienced lower back pain and extremely painful varicose veins. Dr. Park was able to provide relief on a twice-weekly basis and got me through those 9 months comfortably and able to focus on my growing family! Once my son was born and began showing signs of infant torticollis I had absolutely no problem deciding who I could trust to treat him! He soon became one of Dr. Park's patients as well and in the last 9.5 months has found relief from gas pain and constipation, and has achieved full range of motion of his head and neck — And believe me when I say a happy and tear-free baby makes for one happy Mama!
Continuing care with Dr. Park has truly been one of THE smartest decisions and investments I could have ever made for myself and my family. I honestly don't believe I would be this pain-free without him and knowing my son is in good hands is priceless!
Other pros:
Clean, bright, and open treatment rooms
A more "private" family room
Changing table in the bathroom
Activity area for children in the lobby
Quick and easy appointment check in
Little to no wait to be seen at your appointment time-even with a constant flow of patients!
- Amanda E.
Care After Auto Accident, Pediatric Care and Pregnancy Care
I went to see Dr Park when he worked in his office in Santa Clara, CA. His practice was recommended to me by a friend after I was in a major car accident. I was experiencing pain and tingling in my arms. After 3 months I had no more symptoms but I continue to go to chiropractic because I saw the other health benefits that it added to my life.
I began bringing my son to see Dr. Park to help his growing and developing body have the best chance against all the world puts it through. I also have been able to experience chiropractic care from Dr Park during my 2nd pregnancy and it made a huge difference in my comfort level and helped me stay more active. Dr Park is very professional and so friendly. He also works so great with kids, helping make the appointment fun so they don't even realize that what's going on is "healthy". The people of Timnath have been strengthened by having him expand his practice to Colorado.
- Marianna R.
Migraines are under Control
When I first came to Family Advantage, I was excited. I got a wonderful feeling that I was in the right place. After years of medications, and different treatments for massive migraines, and a shoulder injury, this is the first time I can say I feel amazing. My chronic migraines are under control and my chronic shoulder pain is almost nonexistent. I haven't been so pain-free in most of my life, and my mood has been lifted! Dr Park is amazing at explaining everything in a way anyone can understand. For those who say I cannot come because I have small kids… The staff is amazing at helping even the shyest of children, and the practice is extremely child friendly!
- Megan L.
Pediatric Care
She had some tongue and lip tie issues and he was able to adjust her to correct her latch. He talks me through everything he does on her so that I know what he's doing and why he does it. My daughter had four adjustments from Dr. Park so far and after each visit, she conked out in her car seat and at home.
- Annie L.
Care for Our Whole Family
Our family is so grateful for Dr. Park! We came to Dr. Park 3.5 months ago and him and Jennifer have become like family. I originally came in for some issues I was having with my 4-month-old daughter. We potentially needed both chiropractic care and cranial sacral therapy and we were thrilled to find someone who did both. Right away Dr. Park listened to my concerns and took my mothers intuition seriously. I can't tell you how huge this was during an extremely stressful time in our family's life. He was extremely helpful in explaining everything very thoroughly and in ways that made complete sense to me. I appreciate how honest he is in what kind of care is involved to completely treat the issue and to not just put a band-aid over it.
In talking with him, we realized how valuable chiropractic care was going to be to our entire family. Today, my daughter, my four-year-old son, and I are all under Dr. Parks care. He is FANTASTIC with children and my son looks forward to seeing him which is big for him. Our entire family has seen improvements, my daughter's latch improved, my son is not as sensitive to loud noises and is handling his anger a bit better than he was previously, and I can already feel some relief from my back pain in just a few sessions. If you are looking for a great chiropractor who will listen and look out for you and your family's health, Family Advantage is the perfect place for you!
- Anonymous
Dr. Park is truly the BEST chiropractor out there!
I initially came to him because I had chronic pain in my neck and shoulders from severe scoliosis and bursitis. He worked with me for a few months to specifically target those areas and bring alignment to my body. I can honestly say I went from constant, almost unbearable pain to being pain-FREE.
When I got pregnant, I feared everything would come back and my body would be a mess. This wasn't the case, though! Dr. Park was AMAZING at working with me through 2 pregnancies over the last three years, where I delivered 2 healthy babies naturally — he even adjusted me during early labor! I'm convinced that my success in pregnancy and birth was hugely due to my adjustments at FAC.
My two boys were adjusted by Dr. Park within their first 24 hours of life and now receive weekly adjustments at his clinic. They are both incredibly healthy (almost never get sick) and LOVE their adjustments.
Dr. Park is great with kids! And he's more than a doctor. He deeply cares about his patients and has become a close friend to our family. We recommend him to everyone we meet!
Thank you Dr. Park!
- Linzy W.
Newborn Care
A friend referred me to Dr. Parks when my baby was 3-4 weeks old and experiencing frequent reflux. It was difficult for him to sleep and was he in constant discomfort. We saw immediate results after the first visit. Dr. Parks was very clear in explaining how he can be helpful. He was careful, gentle, and compassionate. He genuinely cared for my baby's well-being. His skills and knowledge in helping my baby gave me great security as a first-time mom.
I wish we could continue to see Dr. Parks, but as I will be returning to work and driving from Livermore to Santa Clara is quite challenging. It has been 2 weeks since we last saw Dr. Parks, and I am very happy to share that my baby is thriving and have not had any signs of discomfort. I'm a believer in chiropractic care and hopefully, we can find some just as good as Dr. Parks in Livermore.
- Van N.
Scoliosis Care
I was diagnosed with scoliosis when I was 12 years old. No one ever told me that scoliosis gets worse over time. I saw Dr. Park because I was diagnosed with ADD as a child and I wanted to see if chiropractic care would help me. I had subluxation and I didn't even know it. I guess it answered all of my questions about why I felt so fatigued. I felt like an old lady. Since seeing Dr. Park I feel like I'm 17 again.
My son's attention span has been lower than his peers since he was two years old. Since he's been under Dr. Park's care, his attention span has improved dramatically, as well as his speech. I highly recommend Family Advantage Chiropractic.
- Maureen T.
No One Could Help Until Dr. Park
We first found Dr. Park through a referral after months of meeting other medical professionals regarding our son's sleep problems. From birth, our son did not sleep longer than 2-hour stretches and by month 7 we were convinced something was not right. As a mother, my instincts told me that something was wrong, but every medical professional (pediatrician, neurologist, sleep specialist) either said nothing was wrong or that I just needed to sleep train him and "be tougher" on him (for any parent who has a child who does not sleep well this is literally the most infuriating advice if I made the effort to see a doctor, don't you think I've tried everything obvious already??). Despite the lack of helpfulness from the medical community, I continued my search which led me to Dr. Park.
During our first meeting, Dr. Park was able to offer a real explanation as to why my son was having such difficulty staying asleep. It turns out there were some misalignments at the top of his spine that were preventing his nervous system from being able to transition easily between the sympathetic and parasympathetic nervous system functions. As a result, my son's behavior, movement, and restlessness were all a result of him not being able to get out of "fight or flight" mode.
We began seeing Dr. Park several times a week at first and then less as time went on. He was very reassuring about the care he took with the baby. The adjustments were very gentle and done carefully and gradually. Although this was not the "miracle cure" (as in instantly sleeping for 12-hour stretches) within a short period of time I noticed huge improvement in my son's overall calmness, agitation, and in time, we saw longer stretches of sleep! We later discovered some of his sleep problems were diet related which was the final missing link. Overall, I would highly recommend Family Advantage Chiropractic and the philosophy of care that Dr. Park uses.
- Sarah L.
We Are So Happy with Dr. Park
My now 10-year-old grandson has been seeing Dr. Park for 17 months now. We have seen consistent progress in healing his crooked spine, but most importantly, he loves to see Dr. Park and doesn't mind the appointments at all. My grandson's asthma has almost disappeared completely and his sinus issues are also much improved. We like Dr. Park not only for his knowledge and compassion for his craft, but also because of his professionalism. We are so happy with Family Advantage Chiropractic that after we moved to Gilroy from Sunnyvale this past summer we continue to drive to Santa Clara once a week for treatments by Dr. Park.
- Christine S.
Pediatric Care Helped Our Family Get Sleep
Parents go here if you want to sleep… Our twin boys were born 2 months premature with reflux issues, we saw immediate results from the first session. Our babies were able to sleep better and would tell any parent that this works and is well worth it!
Personally, I have been working with Dr. Park for several years with my active lifestyle, regular adjustments and soft tissue work has been paramount in injury prevention and rehab. He understands an active lifestyle and how to implement recovery protocols.
- Dalbir & Courtney A.
---
Family Advantage Chiropractic Timnath Reviews | (970) 818-9455